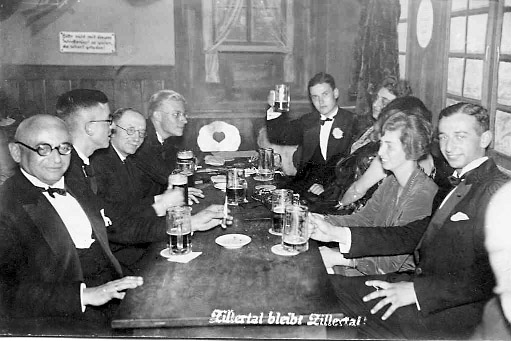 Emil Loewenstein, Rudi Loewenstein (Avnari), and others
Lawyer's Day, Hamburg, 1929
Rudi Avnari: "The picture you asked about was taken in a famous beer-cellar that names "Zilletral bleibt Zilletral" in Hamburg because that are many tourist from Germany travelling to the Alpine resort to enjoy not only the beautiful nature but also the good German beer served their.
"The picture was taken on the occation of my parents trip to Hamburg to take part at the Annual Lawyers day. At this time I studied and worked in Hamburg and my parents and friends from school from Berlin came to visit me.
"Sitting around the table from left to right: my father, my friend, father of a girl that was my girl-friend at this time, my friend that is German Baron. Other side of the table: my friend with the raised glass who made a speach, mother of my girl-friend, hidden half head of my mother, and my girl-friend. The girl-friend and her parents lived in Hamburg. I took this picture and was sitting on the chair between the two rings of the table."